Ever since the internet popularized affiliate marketing, this marketing scheme has become an advertising model. A company compensates third-party vendors for generating traffic or leads for the company's products and services. For monetizing the website affiliate marketing has proved to be the best. An affiliate marketing WordPress Plugins to your website can help you earn money for any purchases your visitors make through that link. 
The affiliate program has been around for years. And has evolved into different niches with different products, such as electronics, kitchen items, books, toys & games, and more. You can promote products in any niche. Those who are new to affiliate marketing, simply recommend different products and services on your website. And earn a commission each time a visitor makes a purchase.
Affiliate marketing is a well-known strategy to boost sales and increase national online revenue. The new push to fewer brand marketers has been extremely beneficial for both brands and affiliate marketers. Previously, this marketing was a pastime for those who never had much success with their online launches.
Today, affiliate marketers using WordPress Plugins, are the most sought-after talents by companies all over the world. Since video content is so popular, many affiliate marketers specialize in this type of production. They know how to use online tools like YouTube. This comes as an advantage so that brands can be found by anyone looking for information about a particular product or service. Affiliate marketing is an agreement between two parties: a reward provider and an affiliate marketer.
The primary role of affiliate marketing is to spread the responsibility of product marketing. Also engagement across multiple parties. And seeks to enhance the capabilities of multiple groups for further promotional strategies by offering contributors a good share of the profits. Three different parties are available to carry out the marketing strategy in this entire process: product creators and sellers, affiliates or advertisers, and consumers.
Affiliate marketing with the anticipation of WordPress Plugins has helped affiliates to add, create and manage the affiliate programs as Affiliate WordPress plugins. As your website collection increases, the number of pages also increases, which becomes problematic if you manage them yourself. So, to keep them manageable, affiliate marketing for WordPress plugins comes into play. 
The added benefits of WordPress affiliate plugins are: – 
Help you develop a loyal following. 

Make links that are easy to share

In your WordPress dashboard, you can add, save, edit, and delete affiliate links

You can automate processes with auto-linking keywords.

Track how well each affiliate is performing on your site.

Customize redirects for affiliate links
The WordPress Affiliate Marketing Plugins for Marketers is a simple and powerful tool. This allows you to create multiple links and associate them with products or services. It helps them to work and manage their websites or blogs. Allows you to create shopping carts, affiliate accounts, links, and banners for your websites, set up an email marketing campaign from the interface of your website, and much more. With this plugin, you'll be able to edit and manage your websites without leaving the WordPress dashboard.
A marketer can promote a variety of products from different merchants. Hence, they need a plugin that helps them in managing these links. It also helps them in tracking these links. The WordPress Plugins helps in streamlining these services by providing important content, link, and competition monitoring features. This increases the impact of your affiliate marketing. 
Customer connections are the most powerful asset in any affiliate marketer's arsenal. These connections are created by building strong brand awareness with content marketing, guest posts on blogs relevant to your niche, and product reviews. They can be earned through partnerships with valued affiliates and also acquired through pay-per-click ads. Consumers trust Amazon because it has strict policies and rules against affiliate marketers posting fake reviews and spamming customers.  
Various Affiliate Marketing WordPress Plugins:
There is various affiliate marketing WordPress optimized plugins to drive up revenue. And can help people to generate reliable revenue.
1.MonsterInsights:
MonsterInsights allows you to look at who you are linking to and, if they are not affiliates, target them to see if they want to join or if they can create an affiliate deal for you. It is a Google Analytics plugin and can also track affiliate link performance. 
With the help of MonsterInsight, you can easily set up affiliate link tracking in WordPress. It tracks affiliate links automatically and provides detailed reports in your dashboard to track the performance of each affiliate. The report shows how many people clicked on your top affiliate links. This site helps you in promoting affiliates that generate the most clicks and revenue.
Additional features of MonsterInsights – 
Easy access for tracking your site 

Time-saving as reports are uploaded directly to your dashboard

Compatible with a wide range of WordPress affiliate plugins.

You can identify your highest converting pages so you can further optimize them and increase sales.

Form conversions are automatically tracked, and integration with popular WordPress plugins is easy.

It has a unique feature: scroll depth tracking. This allows you to determine how far your visitor is reading your content and where you should place affiliate links to increase clicks.
Pricing: Starts from $99.50 per year with the Plus plan and a Pro plan is available for  $199.50 per year.
2. Amazon Auto Links: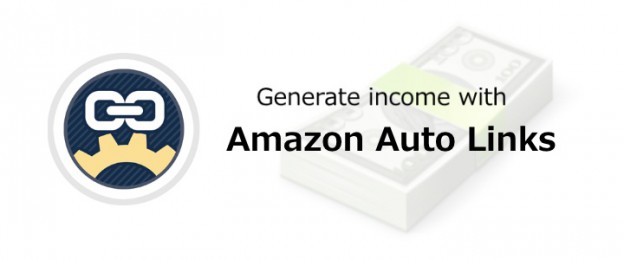 Amazon Auto Links helps you choose the categories that are best for your site. This plugin supports 14 Amazon locales and even works in browsers that do not support javascript. When you select a category, it automatically displays all the product links that fall under that category. Your Amazon Associate ID is associated with all the links displayed.
Additional features of Amazon Auto Links –
One can automatically add product links to your posts and pages.

Personalized Buttons.

Supports all Amazon labels.

Adds affiliate links to your blogs or posts.

Allows you to insert widgets in the sidebar.
Pricing: 57.98 USD for a single site
3.Pretty Links: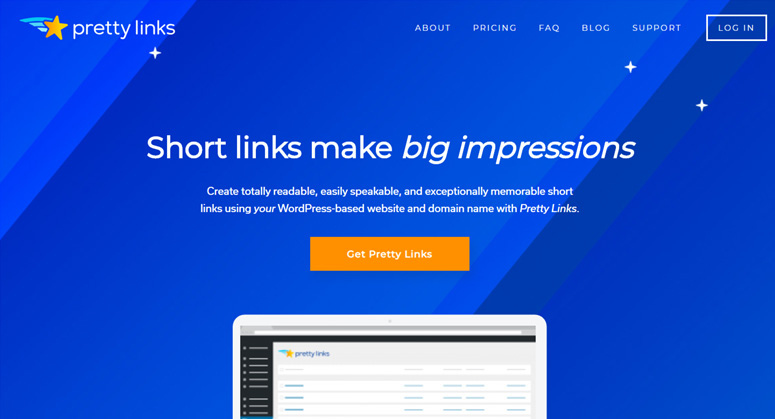 Pretty Links is one of the most effective WordPress affiliate plugins on the market. It allows you to easily manage all your affiliate links on your website and consolidate them in a single place. This plugin, as the name suggests, makes your affiliate links look pretty.
Affiliate links are usually longer, but with this WordPress plugins, you can shorten them using your domain name. It can make links more readable and shareable. The email contains links that can be tracked. 
Additionally, you can increase your page's reach by posting links on forums and leaving comments on other people's blogs. You can also link them to specific keywords so that they automatically link when you mention your affiliates.
Additional features of Pretty Links – 
The number of unique clicks per link is tracked. 

Each link has the option to enable or disable tracking.

Provides reports on each click per day.

Cookie-based system to track visitor activity across clicks.

Easily manage and add affiliate links and import and export affiliate links.

Adds head scripts to your URL and creates advanced redirects to any other URL (only allows 301, 302, and 307 redirects).
Pricing: It is $149 per year, and the Pretty Links Pro beginners plan is $49 per year.
4. AdSanity: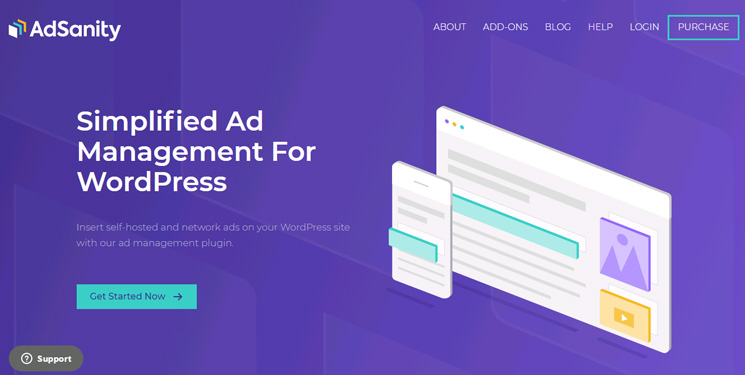 AdSanity is the plugin for you if you want to promote your products primarily through ads. This is one of the most effective plugins for ad management. This plugin makes it much easier to place ads on your website by providing a simple interface. Also, you can quickly create and add affiliate ads to your website using short codes, widgets, and template tags. 
AdSanity can also help you add network ads to your WordPress site, such as Google AdSense. To meet the needs of the campaigns, you can set start and end dates. Also, examine the performance of your campaigns. The plugin offers streamlined reporting with graphical statistics. So you can compare all your campaigns and see which campaigns need to be improved.
Additional features of AdSanity – 
Easy access, lightweight and fast.

Manages your affiliate products and ads from the WordPress dashboard and you can group ads by categories like posts.

To change codes, use actions and filters.

Add-ons provide additional functionality.

Allows two types of publishing: infinite and data-based.

Constantly monitors and notifies users of ad blocks.

Excellent customer service and integration with Google Analytics

Provides detailed reports
Pricing: Its basic plan is $49 per year. And for more features, there's an All-in-One plan for $149 per year
5. ThirstyAffiliates:
ThirstyAffiliates is another popular WordPress affiliate plugin for managing all your affiliate links. It is an excellent choice to hide your long and unreadable affiliate links and turn them into more appealing URLs. Marketers can create categories and place related links in them.
The plugin makes it easy to add, edit, remove and track affiliate links on your website. You can easily change any affiliate link without going to each individual page and editing it. For example, you could create a category for "Themes" and place all of your affiliate links that have to do with themes in that category. Create a category for "Plugins" and so on. This will make it easier for you to manage your affiliate links.
Additional features of ThirstyAffiliates –
Tracking through integration with Google Analytics.

Links can be exported or imported as a CSV file.

Automatic checking for 404 errors.

Keyword links should be automated. And use categories to organize your links.

Add images and banners to your affiliate links.

This will prevent your affiliate commissions from being scammed.

You can easily add links to your posts, pages, and even comments.

Backups are fully supported with standard WordPress backup solutions.

Features a built-in proactive link fixer that helps you track all your outdated links and fix them automatically.

A built-in affiliate link Cloaker allows you to create attractive and easy links.
Pricing: $49 per year.
6. AffiliateWP
AffiliateWP is a streamlined Affiliate WordPress plugins. The plugin allows you to manage and track your affiliate links on your website. It provides real-time tracking of affiliate visits, revenue, and registrations. It integrates easily with your WordPress website and allows you to manage your affiliates from your dashboard. 
Marketers can join different programs based on commission rates. It allows you to create a complete set of merchant-friendly affiliate management systems. It also integrates with all major WordPress Plugins for eCommerce and membership platforms.
Additional features of AffiliateWP -. 
Easy to access, simple, clean plugin.

Keeps a detailed log of every payout to affiliates/marketers.

A dedicated payout system helps you easily payout affiliates directly to their bank accounts.

Provides Real-Time Reports.

Built-in referral link generator allows your referral marketers to create affiliate links.

Creates affiliate programs quickly. Track affiliates closely.

From your WordPress dashboard, you can manage your affiliates.

Uncanny Automator integration allows you to automate your affiliate program.

Create unique affiliate IDs.

CSV files can be used to export your data.
Pricing: AffiliateWP plans are for $99 per year and go up to $499 per year.
7. Affiliate Manager
Affiliate Manager is one of the most popular WordPress plugins for affiliate advertising. It is extremely cost-effective. The plugin makes it easy to recruit, register, sign up and manage affiliates. It tracks the referrals your affiliates send to you and pays commissions accordingly. 
Most popular eCommerce solutions like WooCommerce, Easy Digital Downloads, WP eCommerce, Simple Shopping Cart, and others integrate easily with the plugin. It allows you to easily manage your affiliate marketing programs so that you can drive more traffic and sales. It is ideal if you run an eCommerce store and promote different affiliate products.
Additional features of Affiliate Manager – 
Integrates easily with eCommerce solutions

Tracks an unlimited number of affiliates effortlessly.

Make each affiliate's payout unique.

Affiliate registrations that can be customized

Track affiliate ad impressions.

Real-time reporting includes recording and displaying your affiliates' traffic and sales as they happen.

Set a payout rate for each affiliate and pay their commission via PayPal.
Pricing: Affiliate Manager is a free site or for a single site it's for $39. 
CONCLUSION –
It's worth mentioning that these WordPress Plugins have a lot of beneficial features. The users can use them without any hesitation. Affiliate Marketing is very crucial and sometimes not selecting the right application for Affiliate Marketing in WordPress Plugins it may lead to loss in your business. These WordPress can help one turn simple websites into eCommerce stores.
If you need any other services or any further knowledge, wordpress-e-commerce-development services, can help you have all mentioned websites.